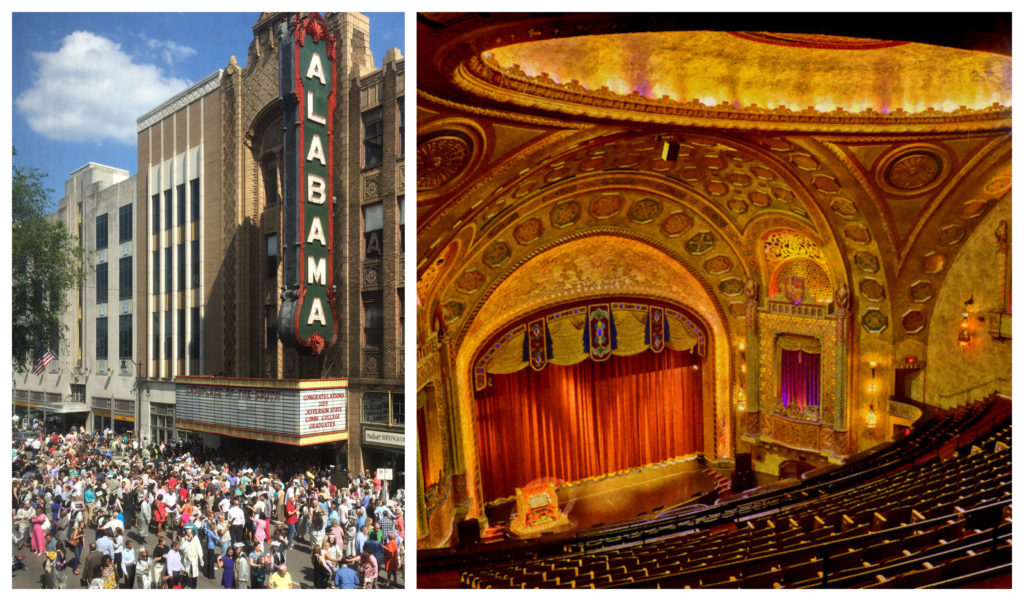 This article is part of the Screenings Classics series at See Classic Films celebrating theaters around the world that screen classic films.
I spoke with Brant Beene, President & Executive Director of Birmingham Landmarks, Inc. for this piece about the Alabama Theatre.
Where is the Alabama Theatre located and how long has it been screening classic films?
We are located in Birmingham, Alabama, and are listed on the National Register of Historic Places. We have shown classic films since the 1980s even though we have been around since 1927.
Are classic films regularly screened at the Alabama Theatre or are there specific weekly, monthly, or annual series that screen there?
We have a Summer Film Series (two days a week for two months) and a Holiday Film Series (every day for two weeks.) Otherwise, it is concerts and other live events.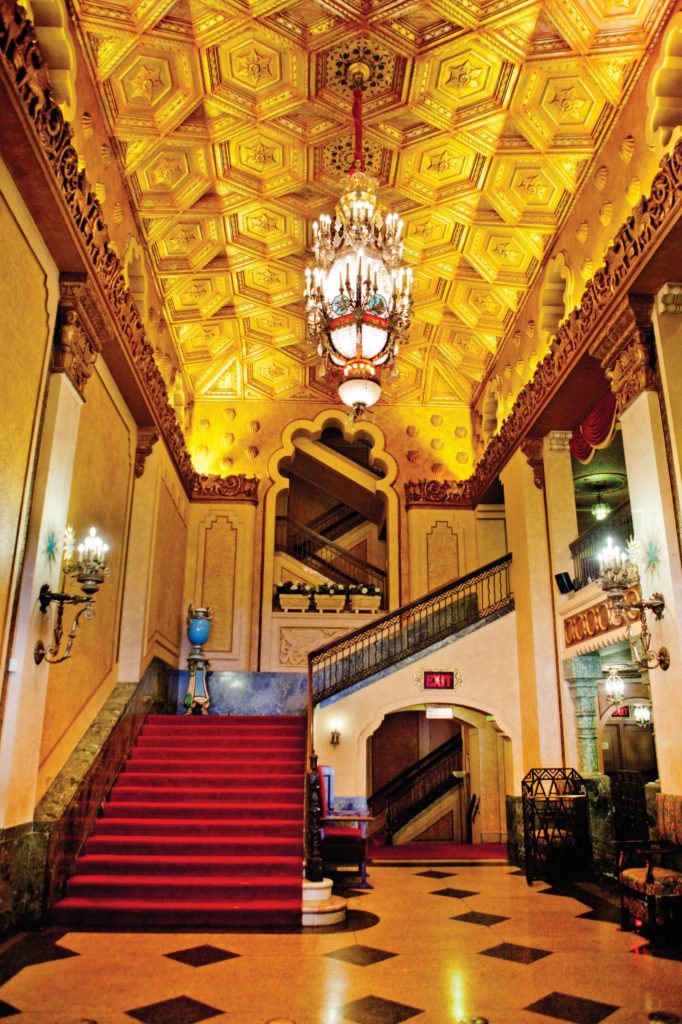 Do you project films on film, digital, or a mix of both? Any thoughts on the future of film projection?
We usually use Blu-ray but have the capability for 35mm, DVD, Blu-ray or Digital. All digital before long. That allows distributors more control.
Why do you think people still like to see classic films on the big screen when in many cases they could watch these films in their own homes?

A) Historic theatre decor is an experience in itself. It takes you back in time. A Mayberry-like feeling. B) You see more details on the big screen. C) Experiencing the emotions of a film can be more powerful sometimes in a group setting. People seem to laugh harder around other people. D) The audio is much more dynamic. E) Our popcorn is incredible!
What are the biggest challenges and /or rewards of screening classic films?
Not much of a challenge. Bringing back memories for our customers. Classic films seem to take you back to the time when you first saw a film and not only do you relive the movie, you get to relive that time in your life.
How do you decide which classic films to program throughout the year?

We usually let our staff choose the movies. There are eight of us so there are enough differing opinions. We all know it can't be a film that only a few people like. We must be able to fill our seats so we try and stick to the true classics.
For people who have never seen a film at the Alabama Theatre – what can they expect from their movie-going experience?
I think first and foremost, visitors to the Alabama Theatre are completely shocked and awed by our decor – straight out of 1927. Not much has changed and it is a very memorable experience to see. Even our concessions seem more from the past than today – in a good way.
We have an original 1927 installed Wurlitzer organ that is played before each and every film we show. We also do a sing-along that is a great, fun experience for all.
What are some classic film screenings that have been very successful in the past at The Alabama Theatre?
Gone With The Wind, of course. To Kill A Mockingbird, The Sound of Music, The Wizard Of Oz, during summer. White Christmas, It's A Wonderful Life, Christmas Vacation, Elf, and Miracle On 34th Street during the Christmas holidays. These are just a few.
Any film screenings you are particularly excited about that are coming up?
Jaws, Steel Magnolias, Easy Rider
How can people learn more about your theater and upcoming screenings?
Interested in having your theater profiled in this series? Send us a note at seeclassicfilms (at) gmail (dot) com.