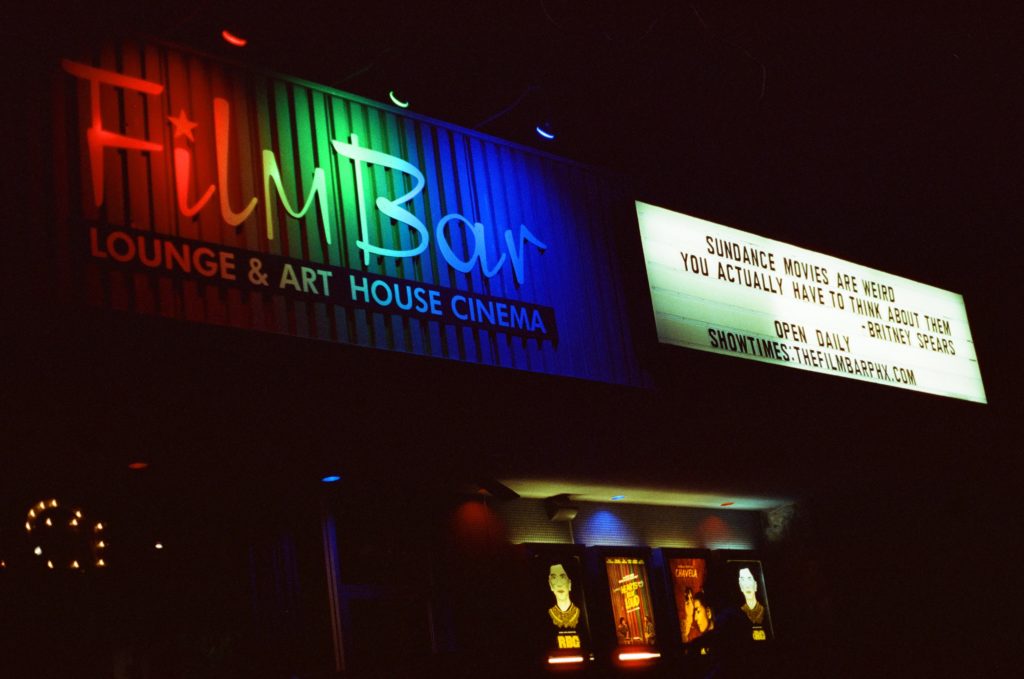 This article is part of the Screenings Classics series at See Classic Films celebrating theaters around the world that screen classic films.
I spoke with Alex Harman, Curator/Host of the Art House Society for this piece about FilmBar.
Where is FilmBar located and how long has it been screening classic films?
FilmBar is located in the heart of downtown Phoenix, Arizona. Over the course of its 8 year run there have been occasional screenings of classic films, but as a regular basis it has been about 2 years.
Are classic films regularly screened at FilmBar or are there specific weekly, monthly, or annual series that screen there?
Classic films are thrown into the programming for specific anniversaries but the majority of the classics are part of the Art House Society series which I curate and host. It is a monthly screening, typically the first Sunday of the month.
Do you project films on film, digital or a mix of both? Any thoughts on the future of film projection?
The projection at FilmBar is all digital, the formats are DCP, DVD, Blu-ray, and other digital formats. Due to the small size and configuration of the booth, there would be no way to fit a 35mm projector within it.
Why do you think people still like to see classic films on the big screen when in many cases they could watch these films in their own homes?

For me, it is the sense of community and experience of seeing a film in a cinema. Often when I screen my films on the big screen most of the audience has never had the opportunity to see them in that format. For some it might be their very favorite film, they've seen it 100 times but never in a cinema, then they attend the screening and get to experience not only seeing it on the big screen but being in a room filled with people who feel the same way they feel. When that happens it's almost as if the room is buzzing with energy and I think the audience can feel that, and that definitely isn't something you can get at home.
What are the biggest challenges and /or rewards of screening classic films in your theater?
The biggest challenge is picking the right titles. Sometimes I pick a title that I think is an absolute home-run of a pick and then only a handful of people show up. Other times it can be something that I think might be too niche and we turn around and have a sold-out crowd. This is beginning to happen less and less as the series continues, which in turn is part of the rewards. With every passing screening I'm beginning to see more of the same faces in the crowd, people who have the same passion for classic cinema as I do, finally having an outlet for that love. Also the gratitude some people express to me for bringing their favorite film to the big screen, as often they've never got the chance to see it there is very rewarding.
How do you decide which classic films to program throughout the year?

The process for my programming has changed year to year. Last year it was more of a test to see what films, directors, and countries of origin people would come out for, kind of a random smattering of art house classics. This year I decided to work my way through some of the biggest film movements in history. So far this year I've done silent era cinema with The General, Japanese New Wave with Tokyo Drifter, Italian Neo-Realism with Bicycle Thieves, and New German Cinema with Wings of Desire to name a few. With each of these titles I did a short lecture before each screening to contextualize their significance in the era that they were made.
For people who have never seen a film at FilmBar what can they expect from their movie-going experience?
FilmBar is unlike most cinemas the average moviegoer will have ever been to. Often first timers will get confused upon walking in because it looks more akin to an art gallery and bar than a cinema, which is all by design of course. Each film will be a different experience.
FilmBar hosts a diverse range of films and events from my Art House Society series to a bi-monthly Big Gay Sing-Along. If you're in my screening it will be a quiet crowd, taking in these often serious films for later discussion. But if you're in the Big Gay Sing-Along it is an audience interactive experience where everyone is encouraged to dress up and participate in what's happening on screen. Essentially FilmBar has something to offer for anyone from any walk of life.
What are some classic film screenings that have been very successful in the past for you?
The most successful screenings are often either French New Wave or anything from Japan's Golden Era of Cinema. Truffaut and Kurosawa sell out every time. Most recently Wim Wenders' Wings of Desire was a packed house.
Any film screenings you are particularly excited about that are coming up?

For October/Halloween I always try and pick a classic yet slightly obscure horror film to screen. This year I'll be showing House (Hausu), the 1977 Japanese cult classic. It is an absolutely bonkers haunted house film that I feel like my audience will truly appreciate.
How can people learn more about your theater and upcoming screenings?
They can head to thefilmbarphx.com for a listing of all the upcoming films from not only my series but all the other exciting events the cinema has planned.
Interested in having your theater profiled in this series? Send us a note at seeclassicfilms (at) gmail (dot) com.